KISS: Keep It Short and Simple
A reference book for school children, teachers and parents that shows the Easy Steps for Better Writing.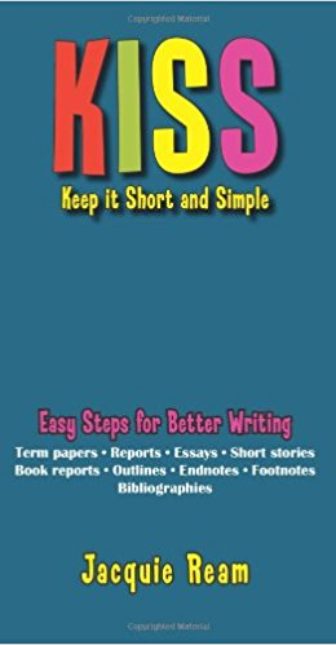 If you can read, You can write
KISS is a small book with a big promise: If you can read, you can write. KISS offers a simple approach to reducing your anxiety around writing by showing how to organize, write, and present papers effectively.
Learn How to:
read for content and context
organize what you know
organize, write and present papers effectively
make your writing project easy to read and presentable
build sentences into paragraphs and paragraphs into a paper
write a letter, term paper, essay, memoir, fiction/non-fiction, resumes
format a book report
KISS also includes a glossary of writing terms and examples of outlines you'll use again and again.
What People are saying about KISS
"KISS breaks it down simply for the mid-school writer or the "very overwhelmed by the whole process" high schooler. It's a quick read with easy to understand charts."
M. Ficken
"I've taught for thirty years; Ms. Ream's book is exactly what aspiring writers need to write, edit, and revise effectively and well. KISS will help writers acquire skills and incorporate rules."
Dr. Mark